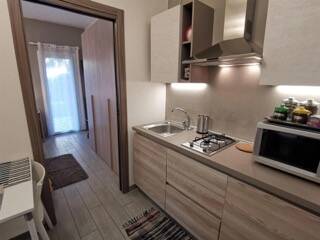 Casa Belfiore Apartments Vicenza 1
Address:

Via Martiri di Belfiore, 23 36100 Vicenza
Vicenza - Historic Center - San Bortolo
Apartments Casa Belfiore Vicenza 1 is located in San Bortolo district, a residential area of Vicenza, just outside the ancient city walls and 5-minute walk from the San Bortolo Hospital and nearby U.S. Army Caserma Ederle.
Casa Belfiore Apartments Vicenza 1 is a family touristic rental composed of independent units, mini-apartments, studios with furnished kitchen and rooms with private bathroom, some units have also a little garden or terrace.
A few minutes from the historic center, all the accommodations, tourist rentals,completely restored, are located in a quiet and easily-accessible area both for visiting the city of Vicenza or for a business stay.
Location nearby Hospital
Privacy

Business & Leisure
Free Wi-Fi
Parking space available and free (ON REQUEST at the Reservation moment).
No smoking inside the structure.
Check-in time: from 15:00 to 20:00 of arrival day. There is a self check-in system;
Check-out time: before 10:00 of departure day; for different needs of check-in / check-out times please contact the property.
Street parking is available in front of the structure. Fee from 8 to 20 (weekdays) at a cost of 1 euro/hour.
Pets at Casa Belfiore Vicenza 1 are welcome! However, please kindly advise in advance of their presence in order to allow us to offer them the best accommodation. (The property reserves the right not to allow access in case of particular breeds of animals or large dogs. Failure to give notice of their presence may result in the non-acceptance of the guest).
CASA BELFIORE APARTMENTS VICENZA 1
Touristic rental accomodation completely renovated, it's a family structure consisting of 4 independent units on the ground floor:
2 studios
1 double room with furnished kitchen
1 double room with equipped small kitchenette
Rooms:

ROOM VICENZA 1

Size: c.a 20.0 m²

1 Bedroom (2 single beds), 1 Private Bathroom, 1 equipped kitchen

Twin room and private bathroom (washbasin, toilet, shower).
Kitchen equipped with microwave, stove, refrigerator, pots, crockery, cutlery, kitchen accessories.
Bed linen included, washing machine.
Air conditioning, heating, TV, hairdryer, iron.
Free Wi Fi.
Private outdoor area with table and chairs.

Rates:
From € 65,00 double room (2 people) per room/night
From € 50,00 double room for single use (1 person) per room/night

Children up to 3 years of age free of charge. Baby cot on request.
Children from 3 years to 13 years: € 10.00 per night (in room with at least 1 adult).
Tourist tax (to be paid locally extra stay): € 2.00 per person / night for max. 5 consecutive nights.

ROOM VICENZA 3
Size: c.a 18.0 m²

1 Bedroom, 1 Ensuite bathroom, kitchenette

Beds: 2 Single beds

Room 3 of Casa Belfiore is equipped with kitchenette, private bathroom (sink, toilet, shower), double bedroom with two single beds.

The kitchenette is equipped with microwave, induction hob, refrigerator, pots, crockery, cutlery, kitchen accessories.
Bed linen included.
Air conditioning, heating, TV, hairdryer, iron.
Free Wi Fi.

Rates:
From € 65,00 double room (2 people) per room/night
From € 50,00 double room for single use (1 person) per room/night

Children up to 3 years of age free of charge. Baby cot on request.
Children from 3 years to 13 years: € 10.00 per night (in room with at least 1 adult).
Tourist tax (to be paid locally extra stay): € 2.00 per person / night for max. 5 consecutive nights.

VICENZA MINI 2
Size: c.a 35 m²
1 Bedroom, 1 Bathroom, 1 kitchen / living room
Beds: 1 double bed and 2 single beds
Studio VICENZA MINI 2 consists of

equipped kitchen and living area
1 double bedroom, two single beds (in the living area)
private bathroom
small private outdoor area.
Bed linen included.
Air conditioning, heating, TV, hairdryer, iron.
Free Wi Fi.

Rates:
From € 75,00 double room (2 people) per room/night
From € 60,00 double room for single use (1 person) per room/night

Children up to 3 years of age free of charge. Baby cot on request.
Children from 3 years to 13 years: € 10.00 per night (in room with at least 1 adult).
Tourist tax (to be paid locally extra stay): € 2.00 per person / night for max. 5 consecutive nights.

VICENZA MINI 4
Size: c.a 40 m²

1 Bedroom, 1 Bathroom, 1 kitchen / living room

1 double bed and 1 sofa bed for 2 people
Mini apartment Mini 4 consists of

equipped kitchen
living area with sofa bed for 2 people
1 double bedroom with private bathroom
Small private garden

Rates:
From € 70,00 double room (2 people) per room/night
From € 60,00 double room for single use (1 person) per room/night

Children up to 3 years of age free of charge. Baby cot on request.

Children from 3 years to 13 years: € 10.00 per night (in room with at least 1 adult).

Tourist tax (to be paid locally extra stay): € 2.00 per person / night for max. 5 consecutive nights.

Special prices for long stays.
For weekly (min. 7 nights) and monthly (min. 28 nights) stays send the booking request to the property.

Accessibility:

wheelchair accessible (Apart Mini 4 On Request)

Pets:

Pets welcome ON REQUEST

Payment:

Direct at the property/deposit by bank transfer or paypal required. Credit card accepted.

Cancellation:

without penalty within 3 day before arrive. 100% stay charge within 2 days before arrival.

Parking:

Parking available. ON REQUEST at the Reservation time.

Wi-Fi:

Free Wi-fi