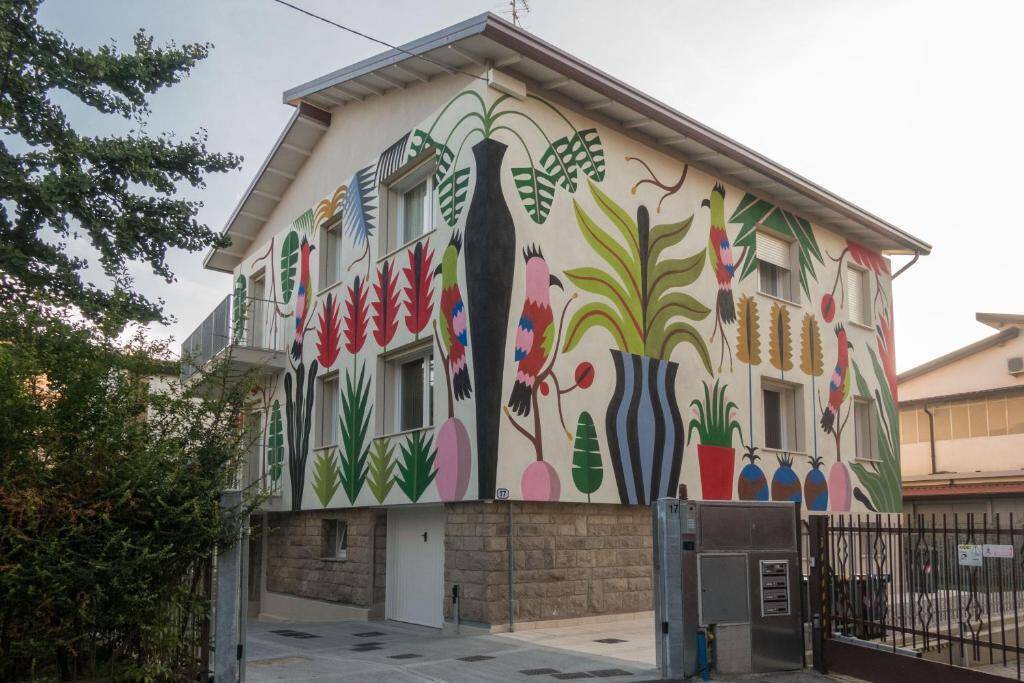 Da Coco Rooms & Apartments
Address:

Via Cattaro, 17 35135 Padova
Da Coco Rooms & Apartments in Padua, in Arcella district - 3 km from the historic center
In a quiet area, accessible to the Historic Center and Padua's Exposition, Da Coco Rooms & Apartments offers accommodations with free Wi-Fi, air conditioning and garden.
Da Coco Rooms & Apartments has 3 rooms and 2 Apartments completely renovated and with an original and eco-green design, equipped with every comfort. Soundproofed rooms.
Ecogreen design
Business & Leisure

Free Wi-fi
buffet breakfast included in B&B
Each room is equipped with a wardrobe, desk, flat-screen TV and private bathroom, kettle. Coffee maker in common kitchen available.
Glazed lift. All rooms and common areas by Da Coco Rooms & Apartments do NOT have architectural barriers and are accessible for people with motor disabilities.
In B&B Accomodation, in the morning, a rich buffet breakfast with fresh and quality products is served. Vegan and gluten-free products are available on request.
Da Coco Rooms & Apartments offers also a terrace.
Da Coco Rooms & Apartments is an ecogreen and environmentally friendly Accomodation. Solar panels provide electricity, single-use plastic free. Filters and softeners for water and low-impact detergents are used.
Very convenient to the places of cultural interest of the city of Padua such as the Scrovegni Chapel and the Church of the Eremitani, Prato della Valle and Palazzo della Ragione, easily reachable by public transport. Bus stop a few steps from the property.
Da Coco Rooms & Apartments is about 35 km from Venice Airport and about 45 km from Treviso Airport. 1.8 km from PadovaExpo and about 2 km from the Geox Theatre and Euganean Stadium.
Bed linen and towels available.
Free Wi-Fi.
Small pets are welcome (to be communicated at the booking time) ONLY in Apartment Accomodation.
Parking available inside the structure ON REQUEST (depending on availability), ONLY in Apartment Accomodation.
Free parking in the street in front of the Da Coco Rooms & Apartments.
Languages Spoken: English, French, Italian.
Check-in: from 15.00 to 20.00
Check-out: before 10.00
Self- check-in and check-out available.
Rooms:

Da Coco Rooms & Apartments has 3 renovated rooms and 2 Apartments with an original and eco-green design, equipped with every comfort.
All the rooms are equipped by a wardrobe, a desk, a flat-screen TV and a private bathroom, free toiletries, a kettle.
On request cot or bed for children.
Free Wi-Fi and ethernet network available.

Buffet breakfast included in B&B Accomodation.

DOUBLE ROOM ( 2 people) c.a. 15 sqm.

Double bed
Private bathroom
VOD television (ex. Netflix), Soundproofed Room, Air Conditioning/Heating

DOUBLE ROOM c.a. 20 sqm.

Double bed
Private bathroom
VOD television (ex. Netflix), Soundproofed Room, Air Conditioning/Heating

DOUBLE ROOM c.a. 15 sqm. with balcony

Double bed
Private bathroom
VOD television (ex. Netflix), Soundproofed Room, Air Conditioning/Heating,balcony

No Smoking inside the structure. No party admitted in the property.

Tourist tax (to pay extra stay): € 1,00 for adults (+16) for 5 consecutive nights.

Accessibility:

wheelchair accessible. Lift available.No Architectural barriers.

Pets:

Pets welcome (small size) only in Apartments Accomodation.

Payment:

directly at the property/Credit Card and Paypal accepted. Direct payment link

Cancellation:

without penalty within 3 day before arrive. Credit Card as guarantee required.

Parking:

Parking available. ON REQUEST at the Reservation time only in Apartments Accomodation

Wi-Fi:

Free Wi-fi and ethernet network