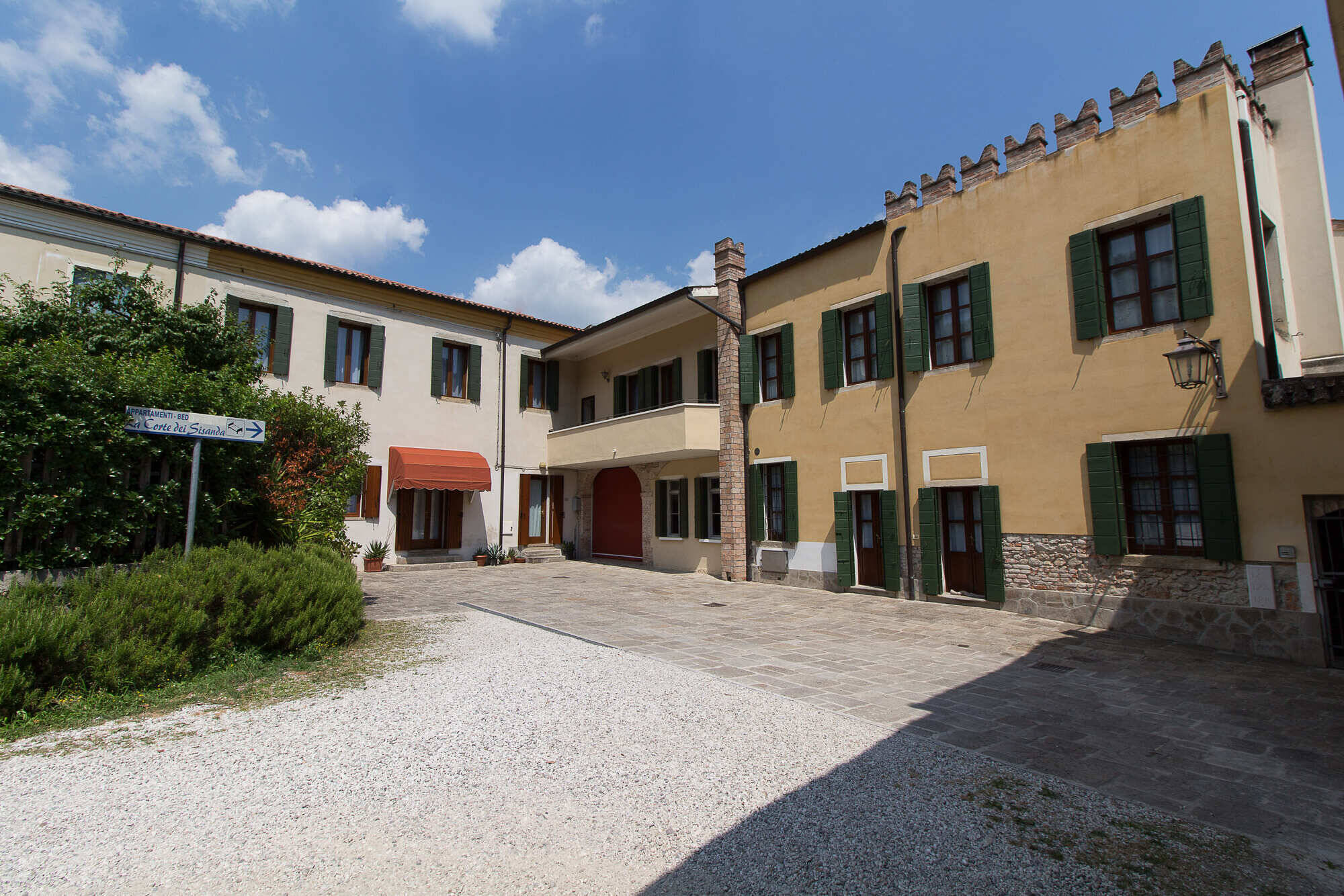 Apartments&Holiday Home La Corte dei Sisanda
Address:

Via Pianzio,12 Galzignano Terme (PD)
Euganean Hills - Galzignano Terme (Padova)
La Corte dei Sisanda Apartments is surrounded by a lush garden bordered by ancient walls, offering a breathtaking panoramica of the Euganean Hills (Padova).
Discover the charme of an ancient Venetian court that originated in 1300 and live your holiday in freedom!
Surrounded by green
Relax & privacy
Slow Tourism

Free Wi-fi
Family Friendly
Bike Lovers
The Corte dei Sisanda Apartments & Holiday Home are an ancient Residence with origins dating back to ancient times. Summer residence of of Count Pimbiolo, the frescoes in some rooms tell a story of noble splendor. The Carrarese style decorations, the particular alignment of the windows and the plan of the building suggest that the Court was a small convent. The history of the Court of Sisanda evolves in 700 and 800 as holiday residence of the noble Estensi family until the early 900 when the maternal grandparents of Mr. Ugo Crescenzio become the owners.
La Corte dei Sisanda Apartmets are located in the wonderful Pianzio Valley, in the Regional Park of the Euganean Hills, in Padua surroundings.
Here you can find an oasis of peace and quiet, an ideal choice for a retreat and relaxing holiday. Nature and Sport lovers can practise mountain biking, racing bikes, trekking, hiking, golf and horseback riding.
At the same time you can discover the gems of Culture and Art such as Arquà Petrarca, the walled cities of Este, Monselice and Montagnana, tour of the Castles and Venetian Villas in the Riviera of Brenta, the Thermal center of Abano, Montegrotto and Galzignano. Padua, Venice, Verona and Vicenza can be easily reached by car, train or bus. Do not miss the Garden of Villa Barbarigo in Valsanzibio (3 km), Villa Vescovi in Luvigliano (5 km), the Catajo Castle in Battaglia Terme (2 km) and finally the Abbey of Praglia (10 Km).
Ugo and Elisabetta Crescenzio with their family welcome their guests from all over the world. Upon your arrival you will be greeted with a bottle of wine homemade and seasonal fruits and vegetables grown by Mr. Ugo.
On request Mr. Ugo is available to accompany you to discover the Euganean Hills for a truly unmissable excursion!
Easily accessible:
By CAR: Highway A4/exit Padova Ovest (20km), Highway A13/ exit Terme Euganee (5 km), Highway A31/ exit Lovolo (20 km).
By TRAIN: Padua railway station (18 km), or Terme Euganee (8 km), taxi and bus service.
BY PLANE: Venice Airport (55 km), train, taxi and bus service.
3 spacious and bright Apartments and a Holiday Home equipped by all comforts welcome you in the greenery and relaxation of the Euganean Hills.
Do not wait, book your regenerating retreat and relaxing holdiday among vineyards and ancient villas, taste the wines and excellences on an unmissable tour among wineries and farmhouses, few kilometers from the Art Cities of Veneto, a World Heritage Site.
HOLIDAY HOME "OLEANDRI"
This holiday house "Olenadri" is named after the oleander hedges bordering the garden across its private terrace. It's spacious enought up from 2 to 10 peoples an all-purpose accommodation with kitchen, bathroom with shower and a double room with sofa-bed in ground floor. At the first floor there are two living rooms with one sofa-bed and two mansardes with double bed and bathroom with shower.
APARTMENT "ULIVI"
Located on the first floor, the Olives apartment accommodates from 2 to 4 people. There is a kitchen, a bedroom with two single beds, a double bedroom with natural wood furniture and a shower room. The terrace overlooks the Southern side of the court and enjoys magnificent views on a plantation of olive trees.
APARTMENT "CILIEGI"
This apartment accommodates up from 4 to 9 people. There is a living room, a spacious kitchen, a master bedroom with natural wood furniture and a bath/shower room en suite. On the attic floor there are 3 rooms: a double bedroom, a double bedroom with a third bed and a bedroom with a French bed and bathroom with tub.
APARTMENT "ROSE"
Located on the ground floor, this apartment can accommodate from 2 to 4 people. There is a kitchen, a bath/shower room en suite, a double bed + a sofa-bed. The terrace overlooks a private garden lined with delicately scented roses, where our Guests can enjoy their breakfast.
Rooms:

4 wonderful, bright and very comfortable Accomodations, furnished kitchen, private bathroom, indipendent heating.

Free Wi-Fi available.

HOLIDAY HOME "OLEANDRI"

From 03/10/2021 to 10/04/2022 the cost of heating is 20 euros per day.

From 12/06/2022 to 18/09/2022 the cost of air conditioning is 15 euros per day.

APARTMENT "ULIVI"

From 03/10/2021 to 10/04/2022 the cost of heating is 15 euros per day.

From 12/06/2022 to 18/09/2022 the cost of air conditioning is 10 euros per day.

APARTMENT "CILIEGI"

From 03/10/2021 to 10/04/2022 the cost of heating is 20 euros per day.

From 12/06/2022 to 18/09/2022 the cost of air conditioning is 15 euros per day.

APARTMENT" ROSE"

From 03/10/2021 to 10/04/2022 the cost of heating is 15 euros per day.

From 12/06/2022 to 18/09/2022 the cost of air conditioning is 10 euros per day.

Apartments and Holiday Home prices:

Minimum stay (in Winter/Autumn): 3 days.

Minimum Stay (in Spring/Summer): 2 days.

Toruist tax (to pay extra stay at your check out): 0,50 € per person/day up 12 years old.

Accessibility:

wheelchair NOT accessible

Pets:

Pets welcome (medium size)

Payment:

Direct at the property/deposit by bank transfer required.

Cancellation:

without penalty within 30 days before arrival. -50% before 15 day at arrival. 100% before 6 days at arrival. Tourist tax 0,50 per person/day

Parking:

Parking available

Wi-Fi:

Free Wi-fi