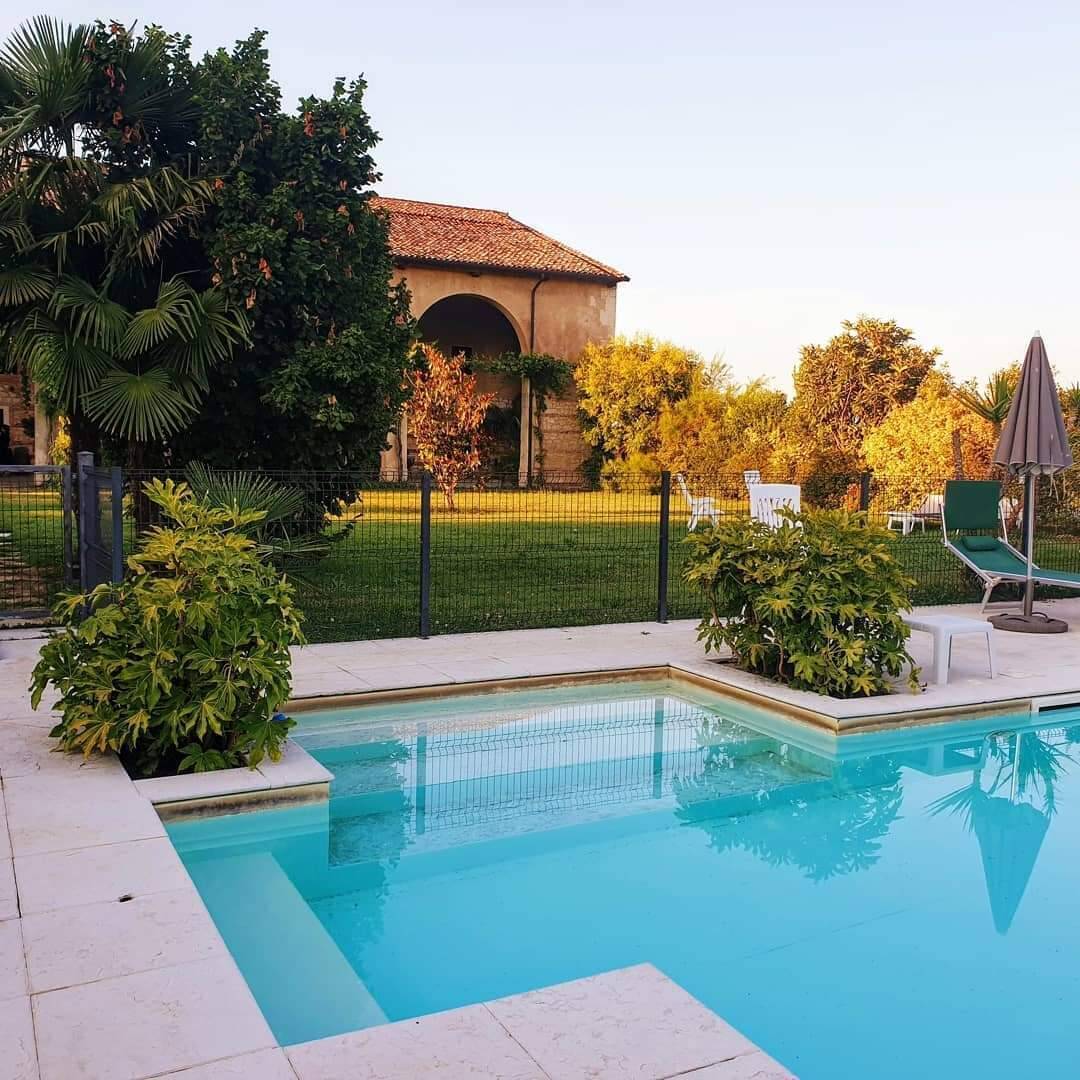 Farm & Holiday Apartments Palazzo Rosso
Address:

Via Palazzo Rosso, 6 Longare 36023 (Vicenza)
Berici Hills - Longare (Vicenza)
Palazzo Rosso Farm & Holiday Apartments is a Farm surrounded by greenery and vineyards at the foot of the Berici Hills, in the province of Vicenza, Unesco Heritage. A beautiful swimming pool and sauna welcome you in an oasis of elegance and retreat.
Welcome to Palazzo Rosso Farm & Holiday Apartments: a historic 17th century Villa 400 acre organic arable farm, 15 kms south of Vicenza, beautiful Unesco World Heritage City, in the heart of Veneto countryside, few kilometres from Venice.
Location in greenery & vineyards
Swimming pool & Finnish sauna

Farm,animals,crops
Charme Country House
Silvia e Phil, the owners, welcome you in their Home!
Palazzo Rosso Farm & Holiday Apartments offers 6 restored holiday rental apartments and a swimming pool.
At Palazzo Rosso Farm you can spend some time with the animals of the farm, absolutely lovely! It's the perfect place if you like spending time in Nature between lands of crops and vineyards.
Palazzo Rosso Farm & Holiday Apartments offers 6 Accomodations with all comforts, garden with pools and a hot tub where you can relax. Our Apartments make you feel at Home!
Come to Palazzo Rosso Farm for a peaceful holiday surrounded by nature in a beautiful location, rich of things to do and see, while you enjoy a nice glass of wine.
The beautiful city of Vicenza is a 20 minute drive from Palazzo Rosso and is a Unesco World Heritage Site and the home of the world famous Architect Andrea Palladio.
There is a cycle track in front of the farm which winds its way 15 kms to the centre of Vicenza and 20 kms south along a river and parallel to the Berici Hills wine road.
Other important places of interest nearby include Venice, Verona, Padova, Treviso and Lake Garda which are all less than an hour's drive (or train ride) from Palazzo Rosso. Other beautiful locations nearby include Bassano del Grappa, Marostica, Asolo, Cittadella, Soave, Montagnana and Mantova, Ferrara and the famous Ferrari town of Modena as well as Trento, Belluno, Rovigo and the Delta del Po and Trieste.
There are also many beautiful day trips to the mountains nearby such as Asiago, Lavarone and the Piccole Dolomiti and Pre-Alps between Vicenza, Trento and Belluno.
Nearby beach trips are the Adriatic Coast of Chioggia and the Venetian Islands.
Rooms:

All the Accomodations are decorated with the classic italian style and you will find everything you need to enjoy your stay!!

All the APARTMENTS are furnished with wood furniture and kitchen with modern lighting. The kitchen has a granite top. Floor in classic terracotta tiles. Original 400-year-old exposed walls. Ceilings with exposed beams.
All accommodations have both heating and air conditioning, wifi connection and Sat TV.

APPARTMENT "ROSMARINO"
Ground Floor - 60 mq - 5 people

living room open plan and furnished kitchen
Double bedroom
Single beds room(until 3 beds)
private bathroom with shower
From € 145,00 aptment/night

APARTMENT "OLEANDRI"
Ground Floor - Accessible by wheelchair - 40 mq - 2 people

living open plan
furnished kitchen
Double room
bathroom accesible by wheelchair
From € 76,00 apartment/night

APARTMENT "NOCI"

First Floor - 5 people - 60 mq

2 double rooms
iving room open plan
furnished kitchen
double room
triple room
private bathroom with shower
From € 145,00 apartment/night

APARTMENT "CILIEGI"

First Floor - 2 people - 40 mq

Double Room
living room open plan
furnished kitchen
double room
private bathroom with shower
From € 76,00 apartment/night

APARTMENT "VIGNETI"

First and Second Floor - 5 people - 60 mq

2 double rooms

dining area and kitchen overlooking a 300 square meter 'porch'

The view also extends beyond the 7 stone arches of the porch to the garden. The apartment has an original ceiling of 4.5 meters high in "terracotta" and beams. Classic larch floor. Walls face view of 400 years

From € 145,00 apartment/night

APARTMENT "TIGLI"

Second Floor - 4 people - 60 mq

2 double rooms
bright living room
furnished kitchen
private bathroom
The view also extends beyond the 7 stone arches of the porch to the garden. The apartment has an original ceiling of 4.5 meters high in "terracotta" and beams. Classic larch floor. Walls face view of 400 years
From € 116,00 apartment/night

APARTMENT "MULBERRIES"

First and second Floor - 6 people - 100 mq

3 double rooms.
master bedroom

Living room there is an antique fireplace with a wood stove and antique walnut furniture.

Use of a porch of 100 square meters with fireplace and pizza oven

Wonderful view over Berici and Euganean Hills

From € 155,00 apartment/night

Swimming Pool:

outdoor swimming-pool available

Accessibility:

Wheelchair accessible on ground floor

Pets:

Pets welcome on request

Payment:

Direct at the property/30% deposit by bank transfer or paypal required.

Cancellation:

Without penalty within 3 day before arrive. 30% stay charge within 2 days before arrival.

Parking:

Free Parking

Wi-Fi:

Free Wi-fi