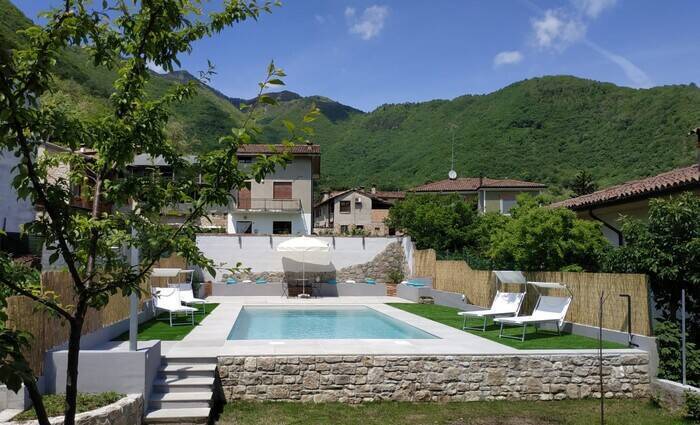 Apartments & Residence La Corte di Marga
Address:

Via IV Novembre, 10 Miane (TV)
Holiday Apartments - Prosecco Hills - Miane (TV)
Apartments La Corte di Marga Residence: your charming apartments in the Prosecco Hills, Unesco Heritage, surrounded by beautiful hills and wineyards!
A perfect stay to relax your mind and body! A wonderful swimming-pool and a fantastic mountain view will make your holiday in Veneto a unique experience!
Apartments La Corte di Marga Residence are located in the village of Miane (Treviso), on the Strada del Prosecco, a UNESCO Heritage site, surrounded by beautiful hills and wineyards. You can start your day with a swim in the newly built swimming pool and enjoy breakfast in the beautiful garden. The properties share a 1500 sqm garden and enjoy a wonderful mountain view.
All properties have an independent entrance. Set in a spacious, quiet and green surroundings, there are plenty of opportunities to go for walks in the nature, or cycling. If you like swimming in nature, you will enjoy the nearby lakes.
We strive to provide our guests with a relaxing stay without any worry. We take maximum care of hygiene and safety.
All our properties have a fully furnished kitchen. The entire Residence is non-smoking.
Surroundings to live!
Miane is located near the beautiful Unesco listed strada di Prosecco, offering plenty of opportunities for dining, culture and outdoor sports.
We also have an apartment available in Venice. So if you like you could combine your stay in the Prosecco Hills with a couple of nights in Venice and enjoy our newly renovated apartment, right behind the Canal Grande, in lively Cannaregio.
Rooms:

Marga for 6/8

Private Villa: More space for more comfort

This spacious villa has a master bedroom with a fireplace

3 double bedrooms
2 bathrooms
a modern kitchen
veranda and a private garden with barbeque
It shares a 1500 meters gras field with other apartments

Price per week/private villa:

High Season (June, July, August): € 1500,00 per week/private villa

Low Season (other months): € 1100,00 per week/private villa

Ginetta for 8

4 double bedrooms and 2 bathrooms

This property has a private entrance from the common garden and is ditributed on two floors. On the first floor you will find a fully furnished kitchen and living room, a double bedroom and a spacious bathroom.
On the second floor you will find a master bedroom, two double berooms and a second spacious bathroom.

Price per week/apartment (1st and 2nd Floor):

High Season (June, July, August): € 1700,00 per week/apartment

Low Season (other months): € 1250,00 per week/apartment

Gustet for 5 people

This apartment has an indipendent entrance with wooden stairs. On the first floor you will find a kitchen/living room, a bathroom and a double bedroom. On the mezzanine there are you single beds a bedroom with a single bed and a bathroom.

Price per week/apartment:

High Season (June, July, August): € 1100,00 per week/apartment

Low Season (other months): € 900,00 per week/apartment

Gustet for 2 to 3
This apartment has a private garden, a double bedroom (where 2 single beds can be added on request), a spacious bathroom and a kitchen/living room.

Price per week/apartment:

High Season (June, July, August): € 700,00 per week/apartment

Low Season (other months): € 600,00 per week/apartment

Ginetta for 2

Loft
This modern cosy loft is situated on the ground floor. It has a private balcony, a kitchen, double bed and a bathroom.

Price per week/loft:

High Season (June, July, August): € 650,00 per week/loft

Low Season (other months): € 550,00 per week/loft

Swimming Pool:

Outdoor swimming pool

Accessibility:

wheelchair NOT accessible

Pets:

Pets NOT allowed

Payment:

Payment direct at the ckeck-out by cash or bank transfer. July and August deposit required: € 100,00

Cancellation:

without penalty within 7 day before arrival - NO tourist tax

Parking:

Free Parking

Wi-Fi:

Free wi-fi