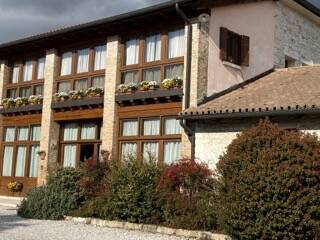 B&B Winery Roccat Prosecco Hills
Address:

Via Roccat e Ferrari, 1 31049 Valdobbiadene
B&B Winery - Prosecco Hills - Valdobbiadene, Treviso
B&B Winery Roccat, Bed and Breakfast in Valdobbiadene (Treviso), your perfect accomodation in the heart of Prosecco Hills, Unesco Heritage. Live a unique experience, enjoy a breathtaking view of the Prosecco Hills, relax your body and mind in the Sauna and taste the special wines of Roccat Winery.
Roccat Winery, B&B and Experiences , Valdobbiadene (TV) - in the heart of Prosecco Hills. The Hills of the Prosecco Superiore Docg, in the upper Marca Trevigiana, just over an hour from Venice, along the natural amphitheater that opens between Conegliano and Valdobbiadene.
At B&B Winery Roccat every guest is welcomed and cares for as if there were a family member. It's actually our way of taking care of our guests.
Breakfast included. It is taken care of into the smallest detail by the mom, Mrs. Lidia. Every morning, after kneading and baking the delicious fruits cakes, she goes to the nearby bakery to choose excellent yet warm cookies and fresh bread for the guests. The homemade jams are served with cheese, eggs and fresh cold cuts. On request special menus for lactose, gluten intolerance and celiac disease (to be comminicated before your arrival)
Whether you are visiting us for business or pleasure, at B&B Roccat you can relax your mind and body and enjoy a breathtaking view in a very intimate and private relaxation area. The Relax Area is equipped with comfortable loungers for sunbathing in total well-being..and when the sun is not there, you can enjoy in the Finnish wooden Sauna, completely handmade. An outdoor sauna between the Hills of Prosecco, Unesco Heritage, is a unique experience!
In the Children Area, children love playing outdoor because the park has a nice playgroud with carousels and swings.
Rooms:

B&B Roccat offers 6 rooms with all comforts.

During the recent renovation, we have paid attention to the choice of fabbrics and patterns 100% ecogreen to make rooms even more elegant and precious design.

Room 1 - FIORDALISO - Double Room

€ 110 per night
Possibility to add a free cradle or a cot at an extra cost of € 15

Room 2 - VIOLA MAMMOLA - Double Room

€ 110 per night
Possibility to add a free cradle or a cot at an extra cost of € 15

Room 3 - MARGHERITA - Double Room

€ 110 per night
Possibility to add a free cradle or a cot at an extra cost of € 15

Room 4 - PRIMULA - Double Room

€ 110 per night
Possibility to add a free cradle or a cot at an extra cost of € 15

Room 5 - NONTISCORDARDIME' - Double Room

€ 110 per night
Possibility to add a free cradle or a cot at an extra cost of € 15


Room 6 - RANUNCOLO - Double Room

€ 110 per night
Possibility to add a free cradle or a cot at an extra cost of € 15:

ROOMS FACILITIES

Private bathroom with shower
Breakfast included
Air conditioning
Heating
Soundproofing
TV with satellite channels
Shared Terrace
Finnish wooden Sauna
Kettle for tea and coffee available in the shared kitchen
Smoking is prohibited
Private parking, indoor and outdoor, without reservation

In B&B Winery Roccat Valdobbiadene you can live unique experiences!

Book your Stay, dont' hesitate further!!

Accessibility:

Wheelchair NOT accessible

Pets:

Pets NOT allowed

Payment:

Payment direct at the check-out - Tourist Tax € 1,00 per pax/day

Cancellation:

without penalty within 1 day before arrive

Parking:

Free Parking indoor and outdoor

Wi-Fi:

Free wi-fi