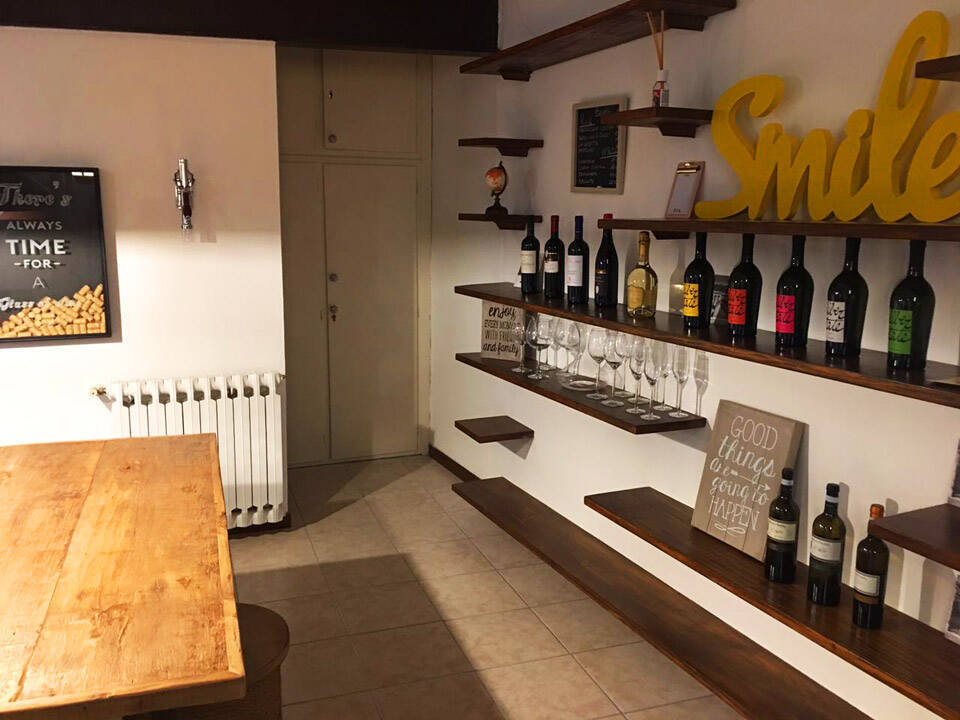 Loft Verona Centro
Address:

Piazza Martiri della Liberta, 3 Verona
Verona - Old Town - Roman Theatre
Loft Verona Centro is located in the heart of the historic center of Verona, city of Romeo and Juliet, famous all around the world for its music, art, culture and international expositions.
Loft Verona Centro is nearby the banks of the Adige River, nestled under the hill of Castel San Pietro and next to the Roman Theatre.
Loft Verona Centro is located in an historic building, which has been elegantly and lovingly renovated.
It is perfectly situated for visits to the city, this along with the attention and care given to every detail, as well as its state of the art technology, make Loft Verona Centro one of the best choices for your stay.
LOFT Verona Centro is a renovated and comfortable apartment. Perfect for maximun 5 people.
It is a complete accommodation with a large living room with sofa bed, double bedroom, kitchen, bathroom and private entrance.
In the Loft there is a "honesty bar", with a careful selection of white wines from the SOAVE area and red wines from VALPOLICELLA.
The services of the LOFT include:
overnight stay;
breakfast kit;

bed linen and towels
The customer has the availability of the keys and also the responsibility for its possession. In case of loss will be required a refund of € 50.00.
Credit /debit cards accepted

Air Conditioning/heating

Hair dryer

Free Wi-Fi

LCD TV

Park by City Pass (yellow lines) in front of the Loft: ONLY ON REQUEST (at the reservation time): € 15,00/day.
Bike parking in the courtyard of the building
Check-in: after h.14.00
Check-out: within h. 11.00
No smoking in the Loft
No pets allowed
Loft Verona Centro is easily reached from Porta Nuova Rail Station on the 73 bus.
From Catullo airport, there are regular shuttle buses to Porta Nuova rail station, then take the 73 bus to reach us.
You can call a taxi from Radiotaxi Verona on 045.532666 or by text to 3403210021.
If you are driving, you can park in the blue coloured parking spaces outside the Loft Verona Centro at a cost of 12€ a day, here there are meters (payment can also be made by mobile phone) or in the underground car park in Piazza Isolo (around 500mt from the Loft) for charges and booking information www.sabait.it/it/parcheggi/verona/veronaisolo
Rooms:

LOFT Verona Centro is a renovated and comfortable apartment. Perfect as Family Accomodation.

Maximun 5 people

HIGH SEASON (FROM MAY TO OCTOBER):

2 people - from € 120,00 to € 150,00 loft/night

3 people - from € 140,00 to € 170,00 loft/night

4 people - from € 160,00 to € 190,00 loft/night

5 people - from € 180,00 to € 210,00 loft/night

Tourist tax (extra stay to pay at check-out): € 2,50 per person/day

LOW SEASON (FROM NOVEMBER TO APRIL):

2 people - from € 50,00 to € 100,00 loft/night

3 people - from € 70,00 to € 120,00 loft/night

4 people - from € 90,00 to € 140,00 loft/night

5 people - from € 110,00 to € 160,00 loft/night

Tourist tax (extra stay to pay at check-out): € 2,50 per person/day

Christmas and Easter Time are considered High Season

Accessibility:

wheelchair NOT accessible

Pets:

Pets NOT allowed

Payment:

directly at the property/Credit Card accepted

Cancellation:

Credit Card as guarantee required/Cancellation policy: without penalty within 7 days before arrival/-50% within 4 days before arrival/total amount within 3 days before arrival

Parking:

On Request - Pay Parking with City Pass (yellow lines) € 15,00/day

Wi-Fi:

Free Wi-fi