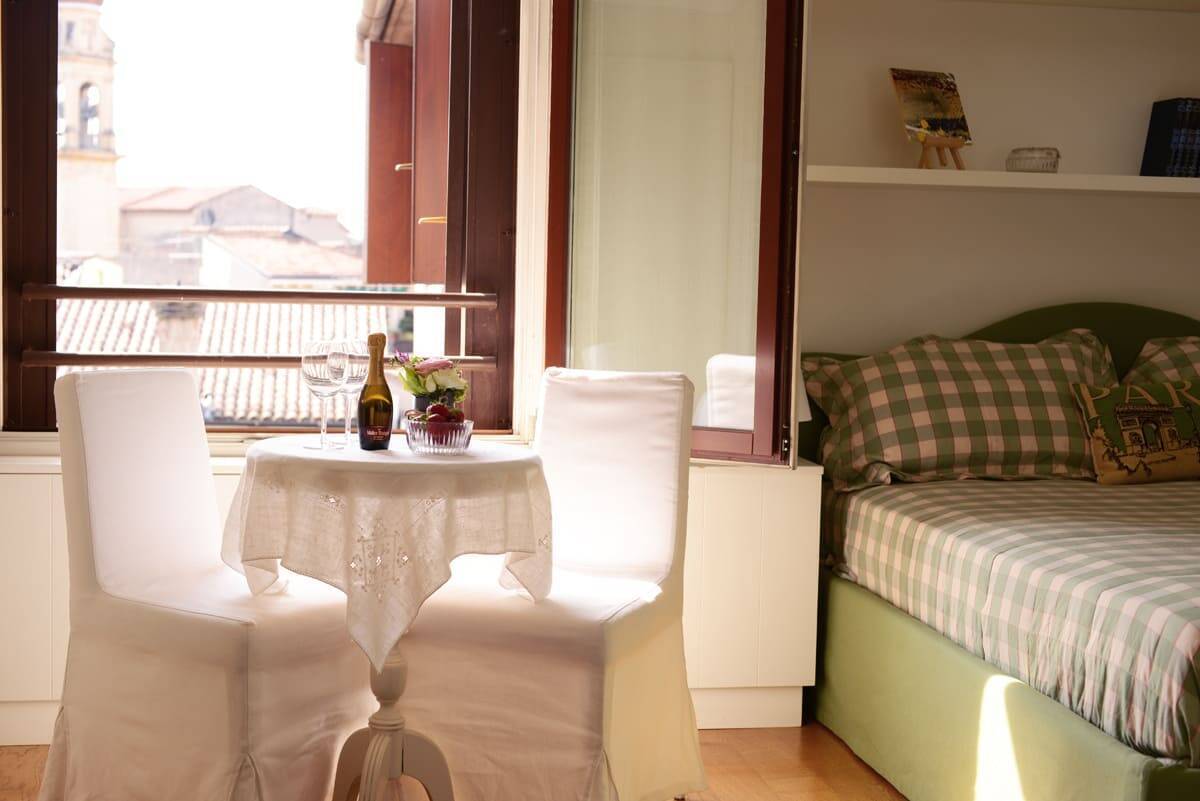 B&B Al 19 Verona
Address:

Stradone San Fermo, 19 Verona
Verona - Old Town
B&B Al 19 Verona, Bed & Breakfast Al 19 in the heart of the historic center of Verona, is located on the 3rd and last floor of a building of the '600 at n. 19 of one of the most elegant streets of Verona.
B&B Al 19, completly renovated, offers 2 bright, quiet and elegantly designed rooms. You can experience a unique atmosphere thanks to the view of the rooftops and bell towers of the ancient city of Verona. Its central location imakes B&B Al 19 ideal for reaching the main attractions of the city and the pedestrian area for shopping.
Historic building
Art & Culture, shopping
At B&B Al 19 a rich breakfast is served in the bright breakfast room from 8.30 to 10.30. Tou can find a wide sweet and savory choice of fresh and top quality products, hot and cold drinks to meet every need.
Verona is a city with an ancient history that has fascinated entire generations. Verona thanks its geographical position it is ideal for visiting other gems of Veneto such as Venice, Vicenza or Padua and discovering the pretty villages overlooking Lake Garda or the hills of Valpolicella and tasting the many food and wine excellences of the territory.
Daily room cleaning. Linen change every 3 days.
Parking : ON REQUEST parking space € 20.00/day.
Parking "Centro" via Campo Marzo, few minutes walk from the B&B Al 19 € 10,00/a day.
No smoking.
Check-in: arrival time to comunicate at the reservation moment
Check-out: within h. 11.00
Rooms:

2 beautiful and bright rooms equipped with every comfort, renovated and elegantly furnished.

ROOM GREEN: 1 double room and

ROOM RED: 1 double room + 1 studio with 2 single beds

Children up to 3 years free (with cot in the room).

Breakfast included in the price.

Private bathroom
Free Wi -Fi
TV, radio
Air-conditioning/heating

ROOM "GREEN"

ROOM "RED"

LOW SEASON (from 7/01 to 31/03 and from 1/10 to 7/12)

Room "GREEN":

Double Room (2 people): € 100,00 per room/night

Double SINGLE USE: (1 person): € 90,00 per room/night

Room "RED":

Double Room (2 people): € 110,00 per room/night

Triple Room (3 people): € 140,00 per room/night

Family Room (4 people): € 160,00 per room/night

APARTMENT IN EXCLUSIVE USE (6 people): € 230,00 per Apartment/night

HIGH SEASON (from 01/04 to 30/09 and from 8/12 to 6/01)

Room "GREEN":

Double Room (2 people): € 130,00 per room/night

Double SINGLE USE: (1 person): € 110,00 per room/night

Room "RED":

Double Room (2 people): € 140,00 per room/night

Triple Room (3 people): € 170,00 per room/night

Family Room (4 people): € 190,00 per room/night

APARTMENT IN EXCLUSIVE USE (6 people): € 280,00 per Apartment/night

The guest has the availability of the keys and the responsibility for its possession.
In case of loss, a refund of € 50.00 is required

Tourist tax (to pay extra stay directly at your check-out): € 3,50 per person/day

Accessibility:

wheelchair NOT accessible

Pets:

Pets NOT allowed

Payment:

direct at the property. Credit/debit card accepted

Cancellation:

without penalty within 5 days before arrival.Otherwise penalty 1 night rate.

Parking:

On REQUEST parking space € 20,00/day

Wi-Fi:

Free Wi-fi